My parents recently purchased a new house in the exurbs. So far out that Google maps doesn't have any photos for the four highest settings. It's 44 miles one-way to the nearest mall. Yup, that's the middle of nowhere. My Dad built a nice set of cabinets for their living room. Including a a mantle over the natural gas fireplace. When they moved in, unfortunately, their old TV didn't fit. It hung over the front edge about half an inch. Clearly this was not acceptable. The only  remedy, go out and buy a big badass flat panel TV. And they got a nice good one, I believe its the Panasonic TH-37PX50U; a 37 inch widescreen plasma screen. I'm jealous.
Unfortunately, it's stuck in the stretch aspect ratio, which means that all 4:3 content gets stretch to its 16:9 dimensions, kinda strange. Anyway, I was trying to fix this by playing around in the menus when I found that there was option for "license". Naturally I clicked on it.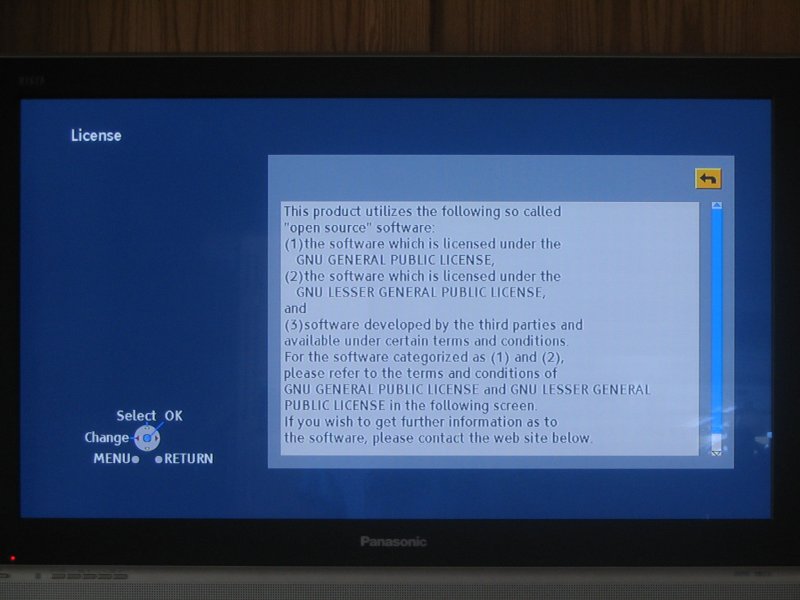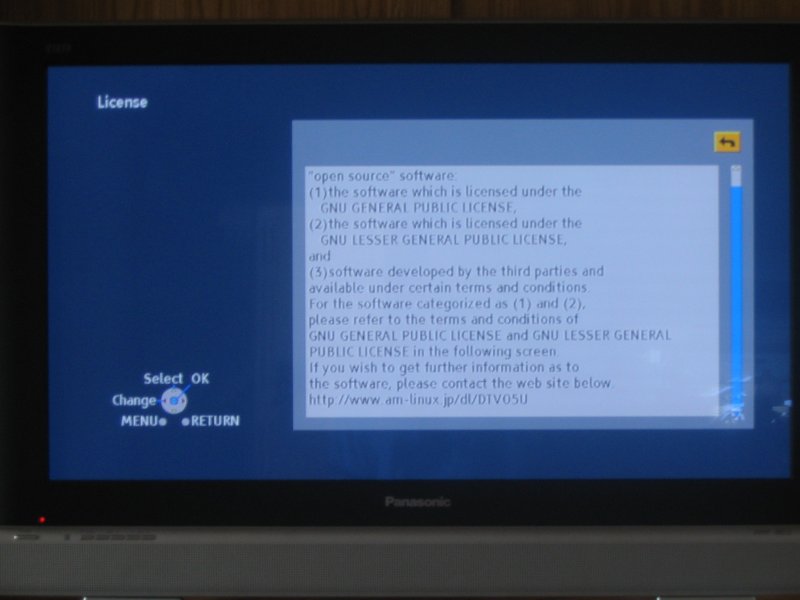 Here's the full text of the license, transcribed by me:
This product utilizes the following so called
"open source" software:
(1)the software which is licensed under the
  GNU GENERAL PUBLIC LICENSE,
(2)the software which is licensed under the
  GNU LESSER GENERAL PUBLIC LICENSE,
and
(3)software developed by the third parties and
available under certain terms and conditions.
For the software categorized as (1) and (2),
please refer to the terms and conditions of
GNU GENERAL PUBLIC LICENSE and GNU LESSER GENERAL
PUBLIC LICENSE in the following screen.
If you wish to get further information as to
the software, please contact the web site below.
http://ww.am-linux.jp/dl/DTV05U

The problem is, I could not figure out how to get the screen to pull up the GPL or LGPL, which would have been kinda cool. But alas, no dice. Furthermore, when visiting http://www.am-linux.jp/dl/DTV05U one is greeted with a nice 404 error. That's just not cool. I even tried switching the model from DTV05U to DTVO5U, but it still didn't work. Crapola. So then I visited http://www.am-linux.jp/ which makes me wonder again, WTF is wrong with Japaneese people. Really, why do those bunnies need to be there?! I even followed the click stream looking for the USA software and couldn't find anything. Sigh. The Japaneese stuff is there at least.